CUT RESISTANT SHIRTS
CutPRO® Cut Resistant Shirts

CutPRO® high performance cut resistant shirts for workers in the flat glass and sheet metal production or processing industry.
These garments are a highly effective and very reliable means of minimising the danger of unintentional cut injuries (lacerations). Especially when manually handling flat glass, float glass, plate glass or sheet glass it is of greatest importance to utilise the best possible PPE. Are you looking to effectively protect your employees from cut injuries?
Of course, the top priority needs to be to supply appropriate information on all preventative safety measures as well as training on the handling of glass to all workers. However, unfortunately it is a matter of fact that cut injuries will continue to occur as long as human being exists. Human and mechanical mistakes can and will continue to take place, but we want to do our utmost to reduce that precise risk and its consequences, and CutPRO® Cut Resistant Shirts can help you reach this objective!
Our most popular CutPRO® Cut Resistant Shirt is our 'Sweatshirt with Crew Neck'. It is offering an ideal combination of outstanding cut resistance (full front body and arms ) and breathability (back and underarms). It is comfortable for wearing throughout the shift in hot environments, with a choice of Orange, Grey, Yellow and Black for the non-cut areas. The thumbholes are ideal for protecting the wrist area to exposure to cuts and lacerations.
A research project carried out by The International Labour Organization in 2003/04 highlighted that of 263 glass employees at a one specific glass manufacturing facility 59.3 % had struggled with cut related injuries at work.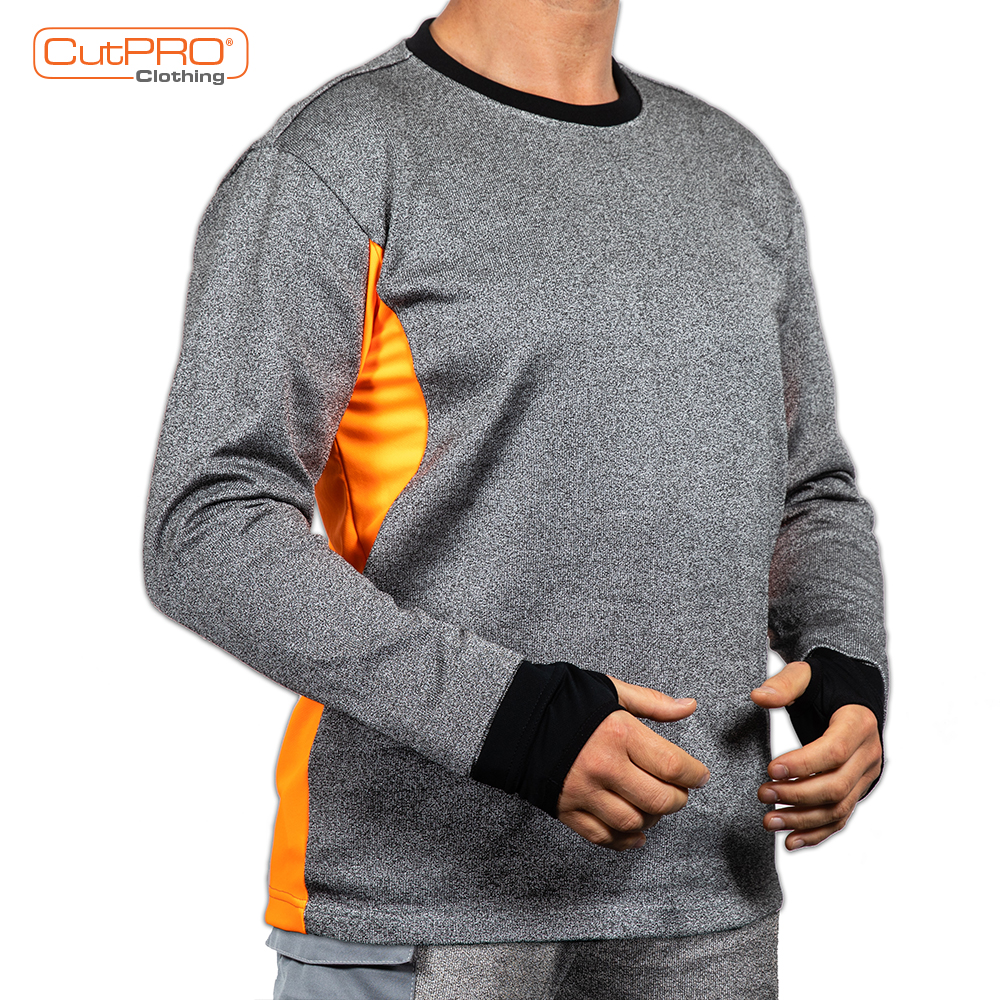 CutPRO® Cut Resistant Shirts | Protection Levels
EN 388:2016 Cut Resistance Level E
ISO 13997:1999 Cut Resistance Level 5
ANSI/ISEA Cut Resistance Level A5
EN 388:2003 Cut Resistance Level 5 (old standard)
Since its recent global launch, CutPRO® Cut Resistant Shirts have immediately made a fundamental difference to the personal safety of those working in the flat glass and sheet metal industry in several countries around the globe.
Following a comprehensive two years investigation into major accidental cut related injuries around the world and ongoing research and development, CutPRO® Cut Resistant Shirts have been designed and are now offering truly outstanding superior cut protection.
All garments have been tested and certified against the industry leading standards here in Europe, as well as America and overseas.
We are here to help you protect your workforce, and we are here to help you to end up with exactly the type of precise cut resistant shirts and cut resistant trousers you really want and believe in.
Please feel free to contact us if you believe we can be of help.