We developed cut resistant PPE for glass fabrication companies, the sheet metal industry, and any other manufacturing or construction industries where workers are at risk from cut injuries.
Experience is often telling us that workers are equipped only with gloves and cut resistant sleeves, often old, crumpled and now offering very little in terms of cut protection.
This blog will discuss how wearing cut-resistant shirts will offer your team superior protection over wearing only sleeves, and why our shirts are an essential investment towards creating a cut-free workplace.
Learn more about the importance of cut protection: Cut Protection in The Global Glass Industry
Shirts can offer complete upper body protection from cut injuries
A cut resistant shirt will offer full upper body protection from cut injuries, whereas even the best quality cut resistant sleeve/gauntlet can only protect the forearm.
Sleeves are also susceptible to riding down leaving areas of exposure. Not only do they need pulling back up repeatedly, but a worker may also not remember to put them on at all.
Many sleeves are made of para-aramid fibres which can be susceptible to degradation from moisture, sweating, and laundering. Thus, losing dimensional stability and protective properties.
Shirts not only stop the above from happening, but they also provide uniformity and additional visibility features.
Tailored protection for high-risk contact points
When only wearing sleeves, there are areas of the body which are left exposed to the risk of cut injury, such as the belly, which can brush against glass panes and sheet metal while they are being cut to size.
We have shirts which are specifically tailored to mitigate these risks. For example, the Crew Neck Top with Full Armguard & Belly Patch which has a breathable polyester back and chest. The belly patch protects your team from cutting table injuries.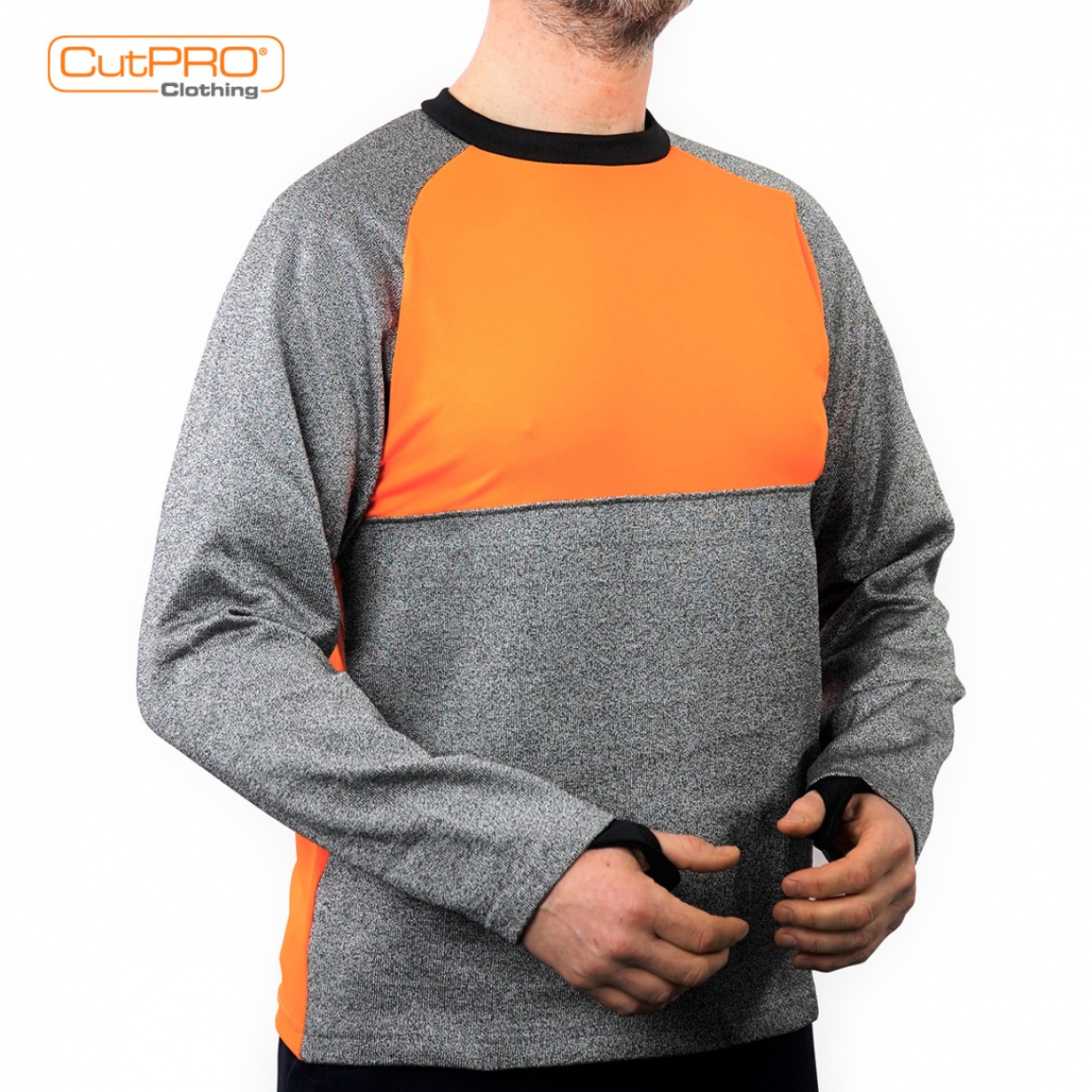 Designed for safety, Wearability and Comfort
Depending on the risks which have been identified, our garments are designed for optimum comfort with a combination of our high performing fabric Cut-Tex® PRO and breathable polyester. Our shirts also include thumb loops to ensure that the sleeves do not ride up for safer manual handling of sharp objects.
Our garments are CE and UKCA certified with the following levels of resistance:
Cut Resistance: Level E EN ISO 13997 (TDM-100 Test)
Cut Resistance: Level A5 ANSI/ISEA 2016
Tear Resistance: Level 4 EN 388:2016
Puncture Resistance: Level 4 EN 388:2016
Abrasion Resistance: Level 3 388:2016
By meeting these rigorous testing standards, we ensure that your team are receiving the appropriate standards of cut-resistant workwear every time.
We want to help protect you and your team by supplying you with quality protection and service. Customisable options including embroidery and polyester (colour) available for adaptation too!
Our company's social media presence: