CutPRO® Cut Resistant Trousers
CutPRO® Cut Resistant Trousers

CutPRO® Cut Resistant Trousers are a fundamental part of our great new and innovative brand within the world of personal protective equipment.
Following extensive research, we concluded that there was a real need for high quality and equally durable cut resistant trousers. Potential customers from literally around the world made contact and explained that the 'wear-ability' of their existing PPE was rather 'limited', the sizing options were not sufficient enough or the quality did not meet their expectations.
Our CutPRO® Cut Resistant Trousers with Front Protection incorporate cut resistant areas in a standard workwear trousers design. They eliminate the need to wear additional garments for protection against cuts and lacerations. Our cut resistant trousers are available in two colours, Grey and Navy, and we also offer a version with full cut resistance (front and back).
CutPRO® came into this world to make a real difference to those professionals. Our message was very clear: we can and will design trousers that a) will do precisely what we claim they will do, and b) will be 100% fit for purpose.
Our new design and garment production service has been launched especially for those in the glass and metal industry in need of durable and quality protection from accidental cuts.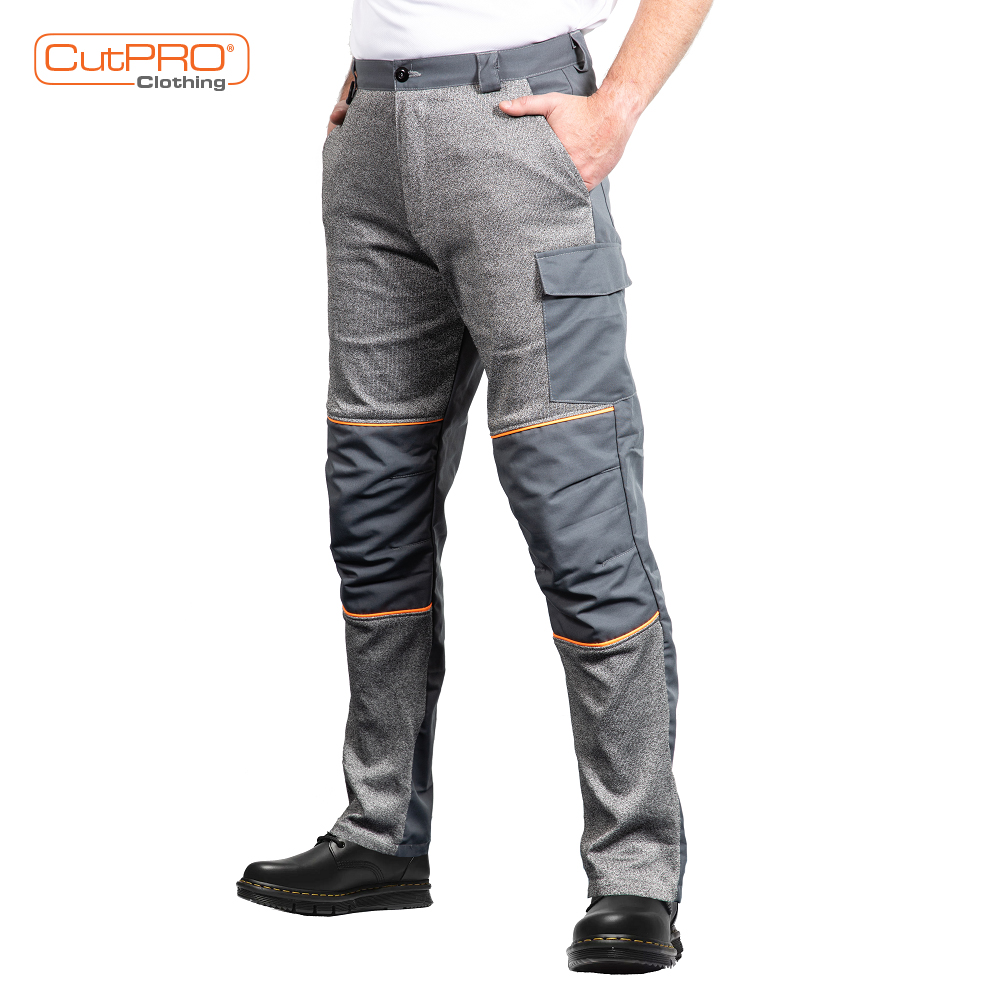 CutPRO® Cut Resistant Trousers | Protection Levels
BS EN 388:2016 Performance & Protection Levels:
Abrasion Resistance: Level 3
Cut Resistance: Level 5
Tear Resistance: Level 4
Puncture Resistance: Level 4
Cut Resistance (TDM 100): Level E
Following extensive research and development, and the support of some of the leading health and safety professionals of internationally respected flat glass production and processing companies, we are now here to help YOU to gain access to precisely the cut resistant trousers you really need or want.
Please read our CEO's very informative article, titled: "Cut Resistant Clothing In the Glass Industry".
Our garments are made from our very own Cut-Tex® PRO a highly acclaimed, ultra-high performance cut resistant fabric that is in excess of 5 times more cut resistant than Kevlar® products rated level 3 at 5N. They offer ANSI/ISEA 2016 Blade Cut Resistance Level A5 as well as the highest levels of cut, abrasion, puncture and tear resistance possible (according to EN 388 – Protection Against Mechanical Risks).
Please note we are producing all of our products here in the European Union. They are fully CE marked and comply will all industry standards and legal requirements.
We believe that CutPRO® Cut Resistant Trousers and cut resistant shirts will offer your workforce the highest levels of safety on the market right now and in the future.
Please feel free to contact us if you believe we can be of help.
Enjoy browsing our website.