We all depend on different types of glass almost every day. But have you ever asked yourself what goes into the production, processing and handling of such raw material?
The glass making process requires real accuracy and great attention to detail to maintain specific temperatures during all stages of the process.
Glass is being produced, processed, treated, finished, and handled using several processes. Some of those processes come with a risk for cut injuries, as well as puncture, and abrasion injuries.
Regardless of if glass workers move the material, take it off a machine, lift it to install it elsewhere, move onto a rack, or carry any type of produced glass, workers are at risk for cut injuries and laceration at almost every step of the glass production or processing stages.
Of course, accidents happen as human being are required to get manually involved, especially if proper lifting or handling techniques are not followed. Sometimes accidents occur when glass is dropped, falls over, or is interfered with during moving. Your best and most effective way to protect yourself from such potentially sever injuries is by preparing yourself for your workforce in advance, by wearing or issuing the right cut protective clothing.
Cut resistant workwear made by CutPRO® includes protective garments that reliable high levels of cut, puncture, and abrasion protection.
Cut Protective Clothing | Protection Standards
The primary safety standards that measure cut protection for the glass industry are the American ANSI/ISEA 105-2016 and the European EN 388:2016 and ISO 13997 standard. Want to learn more about right the right cut level? Read all you need to know.
Effective coverage using dependable glass protection clothing is extremely important for all aspects of the glass production and processing.
Moving and manually handling large sheets of glass often takes two people. Proper glass lifting techniques may also require specifically trained individuals to lift the glass. Cut protective jackets, shirts and trousers are particularly important part of glass protective clothing to utilise when manually moving and lifting sheets of glass.
A real concern in recent years has always been that workers roll up their sleeves or cut protective clothing due to hot and humid work environments and subsequent discomfort. Therefore, it is important to monitor this, but also ensure that all cut protective clothing feature 'thumb loops' reducing the number of individuals showcasing this habit.
Considering all this, CutPRO® Cut Resistant Clothing offers extremely comfortable and lightweight cut protective, all made from 100% Cut-Tex® PRO, the highest performing single layered cut resistant fabric, offering the following certified cut performance levels:
EN 388:2003 Cut Level 5 (Coup Test)
EN 388:2016 Cut Level E (TDM-100 Test)
ANSI/ISEA 105-2016 Cut Level A5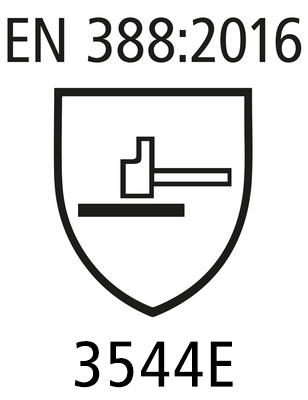 Please contact us!
Catalogue 2022: DOWNLOAD